Documentation Storage
Documentation storagehas never been a simple issue to every company or organization. In spite of the development of technology, we still need many documents, records and papers to support our daily work. The more documentation we have, the more important the documentation storage service is.
What is documentation storage?
Maybe you have heard about documentation storage several times in your life. But are you sure that you have known all about this service? Documentation storage means that all your documents, records and papers are stored in the most effective and safest way. It also means that you will not have to worry anything about the safety of your documentation. The climate or the termites cannot be the enemy of them anymore. They will be back in an intact status to you whenever you need.
When should you need the documentation storage service?
Even you are individuals or companies, you also have important documents to keep, just a few or more. Not mention to the quantity of your document, you really cannot keep your document safe in a long time because of many reasons such as climate, termites or the humidity and so on. If you havea company, the quantity of the documents, records and contracts are huge. Beside all the above reasons, you even cannot have enough space for them. That's exactly when you need the documentation storage service.
Which benefits doesthe documentation storage service bring to customers?
If you use the documentation storage service, you will get so many interesting benefits. Let take a look to these below benefits and you will be persuaded totally by this service:
· Providing large warehouse for huge quantity of documents, records, papers…: Many companies cannot keep their documentsthemselves because the space is too small. But with our service, however huge the quantity of your documentation is, we still have a suitable warehouse for all your things.
· Documentation is kept in a special climate controlled room: We know that climate, in particular, the humidity, is one of the most dangerous factors can harm your documentation. We fully understand that, so we have designed a special climate controlled room to assure all of your records, contracts… are kept in safety.
· Preventing the documentation from being harmed by insects like termites: Once your documents are brought in our warehouse, they will be ensured to stay in 100% intact status.
· Easy to access the documentation online through our system: We provide you an account and password to access all your documents whenever you need them.
· Documentation is kept in safety and high security mode: We ensure to protect all your documentation from thieves with the highest security mode from the moment you chose our documentation storage service.
· Affordable price: Beside the quality of the service, the cost is also an important thing that no one can ignore. With the documentation storage service of us, you will never have to be worried because we commit to bring our customer the lowest cost in the market.
What is included in full documentation storage packaging?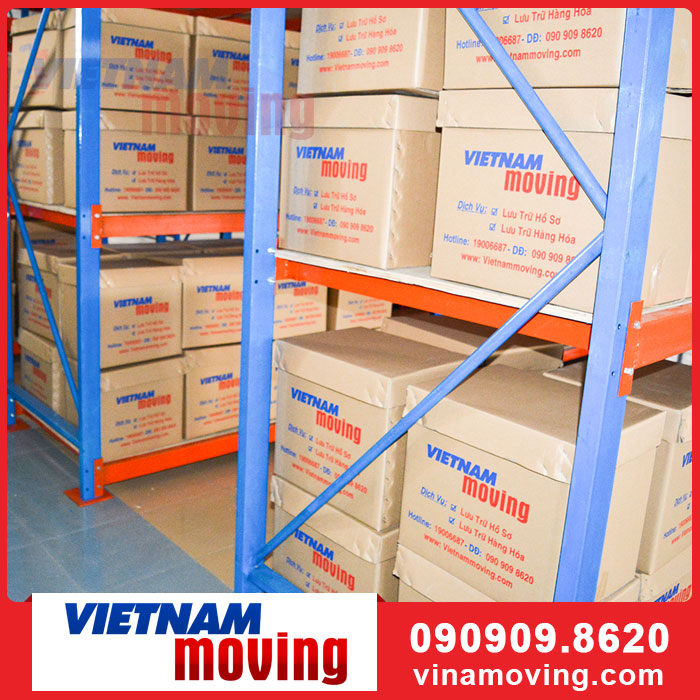 Our documentation storage service including:
- Loading (Packing, listing for inventory and labeling)
- Transportation (Careful driver and professional staff)
- Storing (Checking the status of the documentation)
Documentation storage needs a lot of things to do and if you are not professional, you will meet so many unforeseen problems. Therefore, choosing a reliable documentation storage company is very important. Or we can say that the storage service company you choose will be the decisive element to your work. Until now, if you have no idea of choosing which company to help you handle your storage, so think about Vietnam Moving. We have many years of experience in this field in the market.
Why should you choose the documentation of Vietnam Moving?
Not mention to the experience through many years in this field, Vietnam Moving provides you the lowest cost with high quality service, which has gained the trust of many customers in every field.
· We createprestige based on our customer trust, thanks to our enthusiastic work attitude.
· The enthusiastic well trained and diligent staffs are ready to serve customer anytime, anywhere even it is overseas.
· Affordable price service with high quality always makes customer satisfied.
· No additional fee during the storage process. All the feesarepublicized in advance, before the contract is signed.
· We always listen to the feedback of customer to improve the quality of our service day by day.
The documentation storage process:
Firstly, we send a specialized staff to your office or company to estimate the quantity of your documents to suggest you a suitable package of documentation storage.
Secondly, we come back to prepare the warehouse for your documents.
Thirdly, we give you the quote. If you agree, we sign the contract.
Fourthly, our staffs come to your company and do the packaging and transportation. Your documentation will be special cared and stay safe in our warehouse.
Finally, we will keep your documentation as the contract has been regulated.
Cheap documentation storage service
The cost is an important element when customersmake a decision of choosing storage service companies. With Vietnam Moving, customer will get the most attractive price. We give our customer the quote to compare with other company. Up to your demand, we will suggest you a suitable documentation storage packaging with the affordable price.
Vietnam Moving's Partners and Customers
With many years work hard and try to be better everyday, Vietnam Moving has gained the trust of many customers and partners, not only in Vietnam but also around the world, such as: Cannon (USA), Comcast (USA), Honda (Japan), Arla (Denmark) and Bao Viet (Vietnam).
Customer's feedback:
Mr. Nguyen Huu Thai(Cau Giay - Hanoi): "Ourcompany just has moved to another location. We have a lot of documents to store but we do not know where to keep them safe while moving the office. Then we know about Vietnam Moving through our friends. We used the service of the company and really feel satisfied with it. If we need to move once again, we will not have to worry about documentation storage anymore."
Mr. Tran Cong Tam(District 3 - HCMC): "My father is a painter. He has painted a lot of beautiful pictures. Now he has passed awayand I wantto keep my father's worksbut I really do not know how to handle it myself. Luckily, I found Vietnam Moving. I feel very grateful to Vietnam Moving by providing such an amazing documentation storage service like that."
For all above reasons, we hope you can find yourself a reliable company to help you proceedwithyour documentation storage. If you think Vietnam Moving is exactly what you looking for, so make a call and our documentation storage service will solve all your problems.