International Relocation Services
International relocation services were born to lift the heavy on your shoulders whenever you have to move to new place. It will be hauntingwith a lot of problems created from the journeyif you do your move alone instead of hiring the professional.
What are International Relocation services?
International Relocation services are services providing assist to move all your furniture and belongings to a new location outside Vietnam. International Relocation services were born to save your time and money waste onplanning, designing and researching about the methods to move all your belongings, the suitable timescale or the forwarders to hire or the safety of your furniture. All your problems will be International Relocation companies' problems and they will manage to satisfy you for removing the nightmare.
When should we use the International Relocation services? Which benefits does the service bring to customers?
When your company enlarge to another area in continent or you move beyond one or more international borders since your work requirements or your promotion or personally your marriage, you need to have international relocation companies to help you out of the mess to transport your stuff to your new house right time, right place and small budget:
- On time: Time is valuable than anything. Therefore, hiring the relocation movers will ensure all your plan is on schedule and not interrupt your travel plan or your business plan.
- Certain amount budget: You dont need to worry about the cost on the road and other things like customs duty or regulations. Or the loss/ harmfullness for your stuffs cost you, the international movers will gurantee your stuffs status on the road.
- Right methods: You will feel safe when the experts use the right tools to unplug and assemble your furniture to save them from harmfulness as much as possible.
It is safe to transport your stuffs in packet and cargo
What is included in International Relocation service packaging?
International Relocation service packagingis including:
- Unloading: Disassembly, packing, listing and labeling
- Transporting: careful driversand trusted shipperswith your support to fulfil the documents to through the customs
- Unloading: The oversea company will help you with unpacking, assembly and rechecking
International Relocation ina wrong hands costs you a lot of trouble unless you can choose a qualify "genie""to help you. Vietnam Movingis one of the trusted and qualified companies in Vietnam that I will recommend youfor their fame, professional style and expertise.
Vietnam Movingquality trucks and professional drivers
Why should you choose Vietnam Moving?
Vietnam Moving provides quality international relocation services that you can't ignore for some reasons:
- Vietnam Moving always prioritize customers on first. They always listen and receive feedback from customers and improve their services to satisfy customers in the highest level.
- Friendly, professional and skillful staff is always ready to help you inside and outside Vietnam. Their trusted oversea partners are also well-connected to make sure your stuff is on right place and right time.
- The new equipment and trucks are ready to transport your belongings
- Different services with different discounts for customers to choose.
- Ensure your furniture and belongings unharmed and assemble correctlyand your relocationplan on schedule.
- No increase in fee on the process of international removal.
Which is the process of Vietnam Moving?
The process of Vietnam Moving for International Relocation services packaging: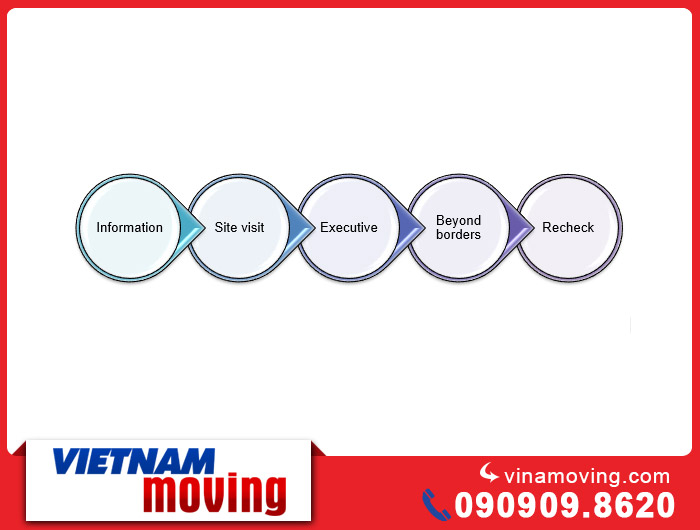 Step 1: Receive your informationand consult you first time for getting the knowledge. Set a site visit
Step 2: Conduct a site visit to collect first knowledge about the volume, the distance and the tools needed to prepare.
Step 3: Sign the contract and executive the transport: Disassemble the furniture, wrap the stuffs, list inventory, pack in labelled boxes and lift to the trucks
Step 4: Fulfil the documents needed for transport beyond borders, contact to local to pick up your belongings, their oversea partners will do the protocol to get your belongings from customs.
Step 5: Re-check the status of items and receive feedback from customers.
Vietnam Movingwill compensate for your lossif you record any harmfulness for your belongings in the arrival point.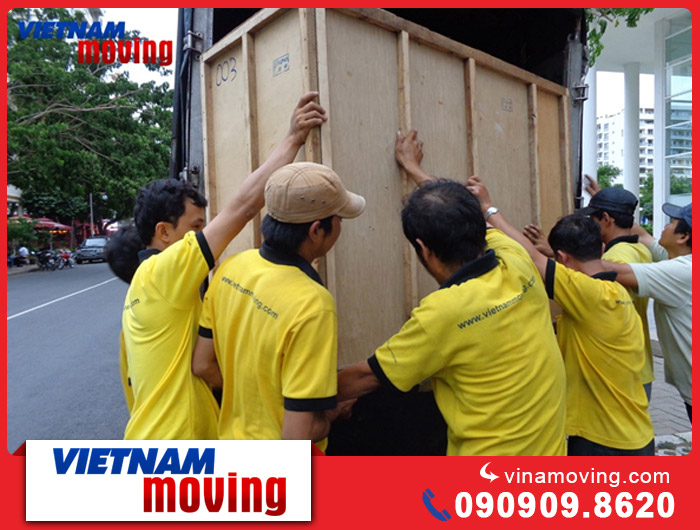 Vietnam Moving Staff
How much should you need to use the service?
Vietnam Relocation will cost you amount of money which is suitableandaffordable. The price data is published on the website vinamoving.com or you can callto hotline of Vietnam Moving to get information.
Vietnam MovingPartners and Customers
Cannon (USA), Honda (Japan), Arla (Denmark), Comcast(USA) and Bao Viet (Vietnam) cooperated with Vietnam Movingfor a whilr and they all please with Vietnam Moving services. And below here are feedbacksfrom our precious customers:
Ho Nguyet– Vietnamese Business in District 2, HCMC:"I need to open a new store in Thailand and I asked Vietnam Moving to move our goods from our warehouse to Thailand. And they completed their tasks perfectly. I am very pleased."
Le Văn Khang – officer in Hang Bac, Ha Noi: "I needed to move to Singapore for my new job. My friend recommended me about Vietnam Moving and I was satisfied with their friendly staff, the detailed plan and the money needed to pay. My belongings was moved in good condition and no harm."
JackMichaelson–Marketing Manager in Nhon Trach, Bien Hoa:"I needed to build another office in Laos. I asked Vietnam Moving several times before and I was received a lot of discounts from them. Their services are the best services with the sincere and well-trained staff, the new equipments and good plan to follow."
In conclusion, with the well- trained and friendly staff in assembly and loading as well as trusted oversea partners beyond borders, Vietnam Movingis always the right choice to for international relocation on schedule and no harm for your furniture and belongings. To get further detailed information, please contact to Vietnam Relocation viavinamoving.com or calldirectly to their hotline number.