International Moving
International Moving services was born to solve the problem of moving to the new land without tons of papers and troubles linking to airfare, transportation, loss belongings, etc. With the developing of technology and differentiating of society, everything you need is choosing a company and the rest is counting on the professional ones.
What are International Moving services?
International Move services are services provided to help you move all your furniture and belongings to a new location in foreign land, outside Vietnam. Using International Moving services save you from concerning about how to store your stuffs, how much cost on shipping oversea, which time is the best time to do, who will pick up your stuffs in foreign airport/port. All your problems will be International Moving company's responsibilities.
International Moving is important and big event in life
When should we use the International Moving services? Which benefits does the service bring to customers?
Every time you have promotion/moving to abroad office or a chance to study abroad/work abroad, there are many things you need to care about like passport, visa or airplane ticket, the paper to immigrate new land or your belongings need to bring along like pillow, chairs, table,etc. In that case, all you care about transportation of your stuff can count on International Moving companies for some reasons:
- One price for all: When you use full International Moving services packaging, you do not care about airfare/shipping cost or who pick up your belongings at the airport; the service is moving your furniture and belongings to new location and unpacking them, assembling them to the right position.
- On time: Moving your home/office will be on schedule with International Moving Companies help.
- Safe and unharmed: Your furniture and belongings is secured.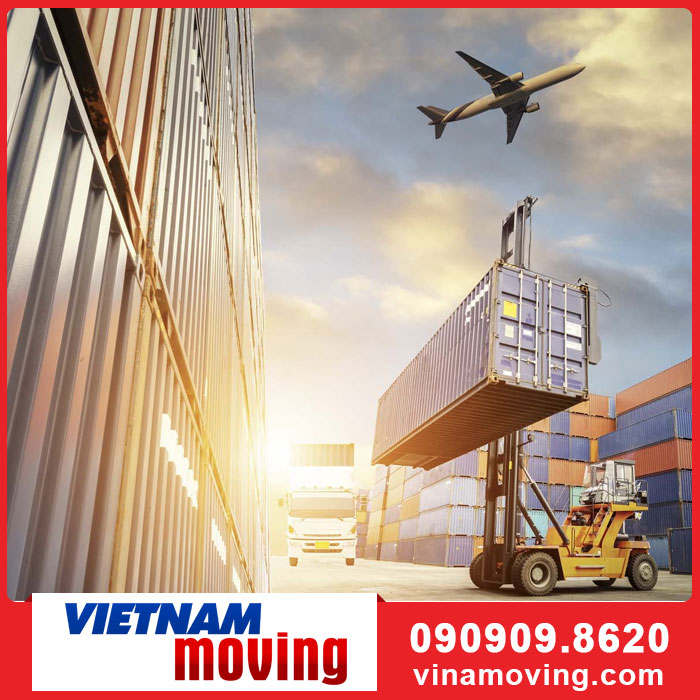 It is safe to transport your stuffs in packet and cargo
What is included in full International Moving service packaging?
Full International Moving service packaging is including:
- Disassembly, packing, listing and labeling
- Transporting with careful driver and trusted shippers
- Unpacking, assembly and checking
International Moving services with a wrong hands costs you a lot of trouble unless you can choose a qualify company. Vina Moving is one of the trusted and qualified companies that I will recommend you.
Vina Moving quality trucks and professional drivers
Why should you choose Vina Moving?
Vina Moving, the number one company in providing moving household service with optimal price and professional staff, is the one you could count on when you needs to move your house/office beyond borders for these reasons:
- Vina Moving always prioritize customers on first.
- Friendly, professional and skillful staff is ready to serve customers inside and outside Vietnam.
- Loading and unloading quick, on time and safe.
- The new equipment and truck is ready to go on the road.
- Different services with different promotions for customers to choose.
- Always receive feedback from customers and fix the mistakes.
- Ensure your furniture and belongings unharmed and assemble correctly; your moving household/ office stuffs plan on schedule.
- No increase in fee on the process of moving house/office to new land.
Which is the process of Vina Moving?
The process of Vina Moving full International Moving services packaging:
Step 1: Receive your information.
Step 2: Research the scale of contract, the distance to transport to airport/port, the fare and papers need to fulfill to move beyond borders
Step 3: Signing the contract
Step 4: Do the transport
Step 5: Re-checking the status of items and receive feedback from customers.
We will compensate you if there is any loss/harmed/fragment for your belongings and furniture. Vina Moving ensures 100% to carry your items carefully and unharmed.
Vina Moving lists and labels your stuffs to prevent loss
How much should you need to use the service?
Vina Moving will cost you amount of money which is suitable, optimal and they will make you pleased with their services provided. The serve is deserved to what you pay. To find out the price data for International Movers services, please go to the website vinamoving.com or make a phone call to hotline of Vina Moving.
Vina Moving Partners and Customers
Cannon (USA), Honda (Japan), Arla (Denmark), Adidas (USA) and Bao Viet (Vietnam) cooperated with Vina Moving in the past and they were pleased with what Vina Moving provided. Vina Moving aim is to please and satisfy customers and become their friends in the future to connect in long term.
These are feedback from our precious customers:
Hoa Nguyen – Vietnamese Business in District 3, HCMC:"Our furniture and belongings is moved carefully to my new place on schedule, the staff is friendly and professional. Thank you Vina Moving for helping me to move home to England. The cost is so cheap that I was surprised."
Phạm Văn Khánh– officer in Bình ThạnhDistrict, HCMC: " I need to move home to Korea and I don't know which companies I should hire. My best friend gave me a recommend about Vina Moving, I came to Vina Moving and I am pleased with their services. They consulted me well with a lot of packaging with different promotion. I will recommend to my friend if they are in my present situation."
Kevin Jain– Indian, Marketing Manager in District10, HCMC:"I am one of dear customers of Vina Moving; I used company's services several times to move India, Japan, Malaysia and Indonesia due to my business plan and received a lot of promotion of Vina Moving. Not only for economy but also friendly and enthusiastic staff make me pleased in every time I used service provided by Vina Moving. One time, my crystal bowl had been fragged, I told the company and they apologized and give me compensate. It is overwhelmed what I expected from that."
In conclusion, with the trained and friendly staff in assembly and loading as well as trusted partners in long journey transportation beyond borders, Vina Moving is always the right choice to for household moving on schedule and no harm to your furniture and belongings. To get further detailed information, please contact to Vina Moving through vinamoving.com or make a direct phone call.